Santorini photography tour has become very popular throughout the past years and a fantastic idea. I will make your photo tour day stress free and fan, with perfect and unforgettable pictures of our beautiful Island of Santorini.
SANTORINI PHOTOGRAPHY TOURS
Santorini wedding photography tour with low cost prices for wedding ceremony and a Photography tour after ceremony.  Keep your most magical moments alive with the right wedding photographer! Pre book and save for Pre-wedding photography tour
WEDDING PHOTOGRAPHY TOUR
SantoriniFlying Dress Photoshoot makes a fairy tale come true. These women look like Greek goddesses with long flying dresses. The ocean breeze lifts up their long trains into the air with the city's famous blue domes, picturesque and the cliffsides,
FLYING DRESS PHOTO SHOOT
Santorini Photography tour
 Types of photography tours
We have many types of Santorini photography tours and of course different packages with different Santorini photo shoot prices. One of the most popular photography tour is the 3 hours photoshoot on the best spots of Santorini. On your Santorini photography tour, you can opt to Personal photograph Santorini wedding photography,  nature, landscapes, or anything else that catches your eye. Santorini is very popular for wedding photography tours after the wedding ceremony on the best Santorini locations or pre wedding photography tours with family and friends
DETAILS and PRICES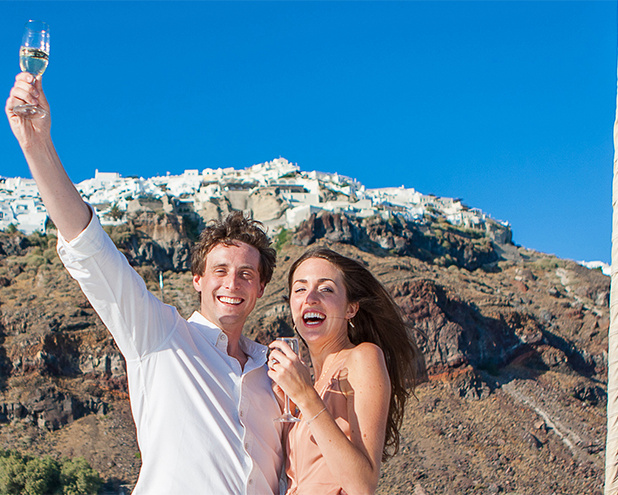 Testimonials
I can not say in words … how happy I am with the pictures you made me our Santorini photography tour … Thank you very much !!!I'm considering a photo idea again for 2018 …. but I'm not sure about the date ..I would very much like, if possible with Jessica and Alex again! Special greetings to her .. and Thank you for the perfect job.I will write to you, I will keep a date soon.Greetings from Sofia Elena
After wedding photography photo shoot!  contact us at: santorininikos@gmail.com
Dear Nikos  Many thanks again for all of your help with Arthur and Melija wedding and the pre wedding Santorini photography tour. Our daughter and her (now) husband initially chose Nikos because he always answered her emails so promptly. We had several meetings with Nikos before the wedding as well as lots of email correspondence. He more than delivered on every level. He and his team worked so hard on the day, taking photographs and video footage from 5pm to nearly 1am. The results were spectacular. All of the many requests for the big day were met – no detail was too small for him to deal with. We would heartily recommend Nikos as your wedding planner! Exceptional performance! With very best wishes, Maureen and Mervyn Bibb
Arthur and Melija wedding
Santorini wedding Photography
Santorini Photography tour of James Flexner proposal day with his beautifull future wife !
We had a fantastic day we couldn't fault Nikos and his team all the way through the whole experience. Our Santorini photography tour on board during our sailing tour and proposalmoments it was for 5 hours photography on the best Santorini sea spots and it was the best thing that we have done for our vacation days in Santorini. The DVD and photos are fantastic and were hand delivered to our honeymoon suite before we left Santorini to return back to the UK.  Couldn't have wished for a better photography planner than Nikos and his brilliant team. We are very happy that we have done our proposal potography tour on board and looking forwald to have our wedding in Santorini as well Thank you so much. James Flexner.
Santorini Photography tour
Dear Nikos and Staff, Antonio and I cannot thank you enough for giving us an absolutely perfect day on June 19, 2018. Throughout the entire process, your timely e-mails were always clear and confident, which in turn made us feel assured that we made the correct decision to get married in a different country. Upon arrival, your staff was attentive and calming. Our photographer, Gerald was absolutely spectacular and he gave us such post-card worthy photos. The photos are a reminder that the day wasn't just a dream! Anna, the videographer, and the manager at Suites of the Gods were beyond wonderful.  Nikos, you truly have an incredible staff. We cannot thank you enough for giving us such a special day.  Sincerely, Ashley and Antonio Cantelme
Ashley Antonio
Photographer